Testimonials
"Without your help I would have not been able to build this company. You have helped me not only focusing my idea, but also kept me on target and always pushed me forward. I truly appreciate your services and I will continue working with you for as long as necessary."
Dr. Fred Ferguson, President, AboutSmiles.com
All the time we have worked together, I have appreciated your advice and insights. You have been very instrumental in preparing the market for GERMAN TV's successful launch in the USA.

Ruediger Lentz, DW-TV
Washington, D.C.
"The event was well organized and we have received many good comments. Thank you again.";
Hyacinth Morgan - UNDP - Division of Public Affairs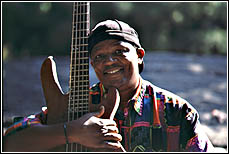 World known South African bass player & musician Bakithi Kumalo after performing at an UN-event in the Guggenheim Museum, New York
"Your work was great...- helpful and very effective. Thank you for this event and I definitely want to continue working with you!"
With your donation of a German TV access, you helped us to significantly surpass last years excellent results! [...] thanks to the terrific support we received from people like you [...] net proceeds for the German International School Boston were almost $27,000.

Guenter Wehrmann
Deputy Consul General
German Consulate
Boston
2003-04
"Great assessment -exactly describing where we are and what the next steps are. Thank You also for always telling me how to keep the mind focused on our goals."

Jim Carpenter, CEO ComTech Networks
"Since summer 2001, you have supported us with advise and action and since then you have been the first contact person for international journalists [...]


Bernard Weber
Founder New 7 Wonders Foundation

Your professional work lead to a number of articles in "The New Yorker", "The Times", "The New York Times". Your consulting in regards to sponsorship opportunities was greatly appreciated."

click here for full reference (in German)
"Mr. Boell has accompanied me to meetings in Paris, France and this was very helpful for me. His strategy coaching sessions were very important for our refocusing efforts and I highly recommend his advice to other small business."
Kalman Istok - President & CEO
Eastern European Merchandising Corporation (EEMC)
"We certainly have enjoyed working with Wigbert. His calm confident overview was always useful. We highly recommend his services. When we started to work with his company - WebdaK, we used the free consultation, but then we realized very soon, how valuable the cooperation was and we continued for a 3 month project."
D . B . , N e w Y o r k
"We have continued using your services, because we really appreciated the professional work. Everything was again to our full satisfaction."
Amy Bieberdorf - Old Navy